Your wedding day according to Schitt's Creek!
If you've not been counting down to the release of the last ever season of Schitt's Creek on Netflix then where the hell have you been? Thankful, Netflix is here to rescue your street cred and you can binge-watch the whole show in a matter of days. The Schitt's Creek wedding was GOALS!
PLEASE NOTE: THIS POST IS FULL OF SPOILERS SO PLEASE DON'T READ IF YOU HAVEN'T WATCHED EPISODE 12!
Heres a quick recap: a well off family fall on extremely hard times and find themselves moving to a remote motel in the middle of bumfuck nowhere….called Schitt's Creek. Meet the Roses: You have dad, Jonny; a business mogul who fucked up a bit. Mum Moira, an excentric actress who treats her wigs like babies (or bebe's) and only dresses in monochrome. Spoilt daughter Alexis who acts like shes just finished a day on Rodeo Drive and son David, the winner of facial expressions and eventually comes out as gay which sort of leads us to why I feel the final episode of this incredibly well-written show is here to teach us a few things about wedding days. The whole show can teach us a lot about money, and family, but the Schitt's Creek wedding can teach us about patience, what matters and getting a celebrant dressed as a chic pope!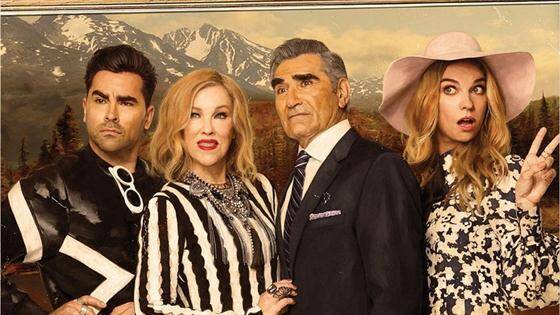 As I watched the episode, I found myself internally screaming 'erghmehgerrrdddd I wish all couples could take this approach' so here I am…writing you the handy guide to your wedding day according to Schitt's Creek's wedding.
Rule no. 1: It's ok if it rains on your wedding day
Let's throw the Alanis Morrisette song briefly in the bin (I love you really, Alanis) and give ourselves a mental check when it comes to waking up and realising its pissing cats and dogs outside. David screams 'fuck' a few times, before his incredible dad and maid of Honour Stevie set about finding some solutions. You know what? You will still get married. And even more than that; think of the stories you'll tell next year or years to come.
David & Patrick tried to save on the budget by not investing in a weatherproof tent. I mean I could write a whole article on how to make sure your budget is being spent properly BUT….they skipped the tent for pizza so who the hell am I to tell them what's a priority. As the town steps up to help the happy couple hours before the wedding, they decide the slightly neglected Town Hall would be the new rain-prove venue for the celebration. Which sort of leads me to rule number 2
Rule number 2: you CAN polish a turd venue
Ok so maybe The Ritz was slightly out of budget, but guess what? No one gives a shit. Literally. No one is going to care if you're venue is the local pub or your nan's back garden. This pandemic is teaching us so many things but the main one is that being together is what is important. In fact…I feel like that's the whole message of Schittz Creek!
One thing I strongly suggest is investing in a few really key décor pieces. Fairy lights, colourful lanterns, streamers, flowers, arches. Find a good quality prop hire company if you've not got the budget for a wedding stylist to help transform any venue into a wedding spectacular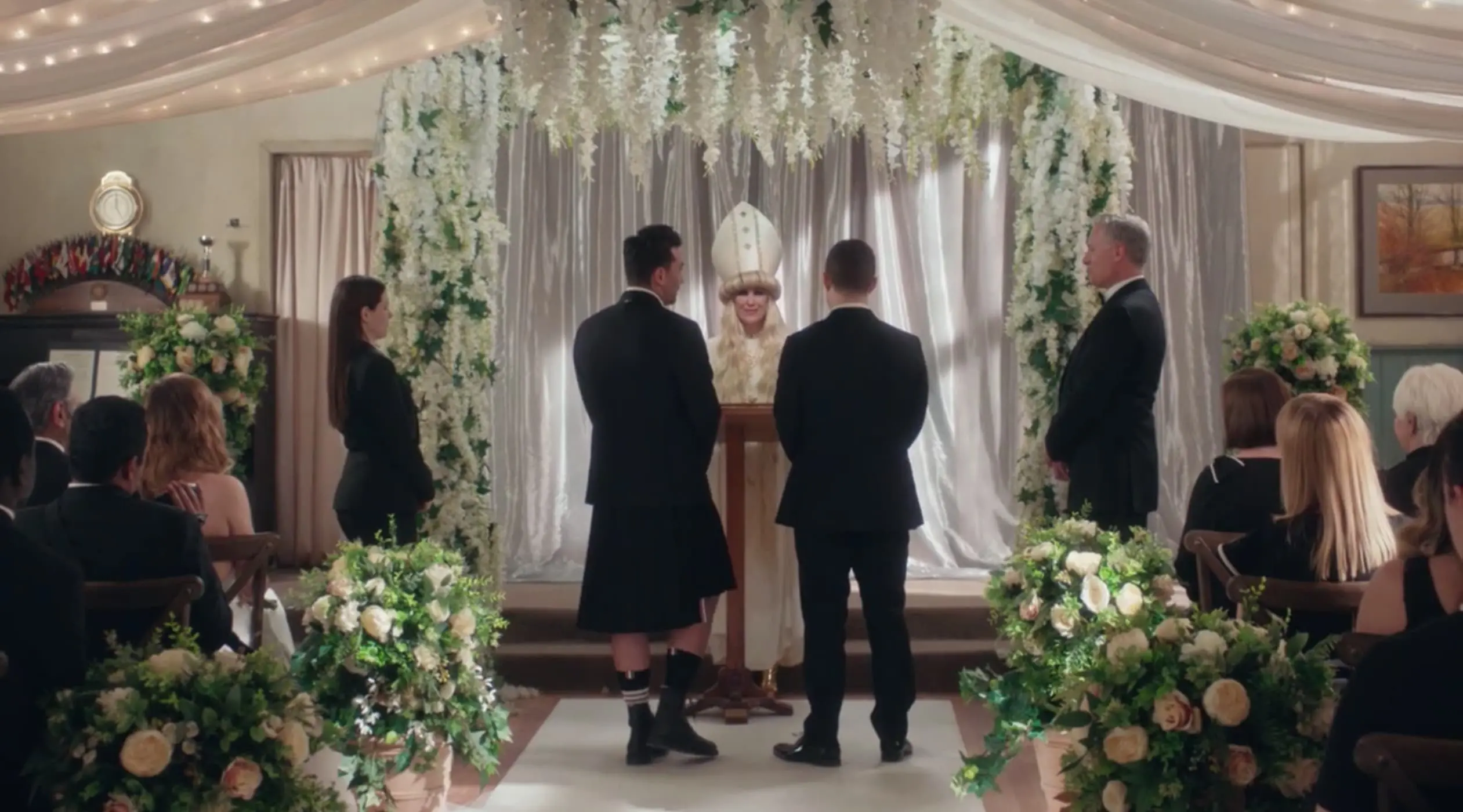 Rule number 3: have a good 'I do crew' around you
In a previous episode, we saw David being guilted by sister Alexis into making her maid of honour despite already choosing best friend Stevie. Luckily, the two sorted it out before it got nasty but Stevie AND Alexis both came through on the day with incredible support and incredible outfits. Stevie acted as David's PA when making the decision to not use local residents' front room or a parking garage for their wedding. So: choose bridesmaids, brides mates, groomsmen that'll act on your behalf when the going gets tough.
Rule number 4: stop caring about the small stuff
Did Alexis wear white to her brother's wedding? Yes. Did she look like a bride? Cuss yeah. But David didn't give a SHIT and I love him for it. He was too busy thinking about marrying his lobster, Patrick. So what if a guest wears something eye-catching? So what if the favours are the wrong colour? Does any of it truly matter?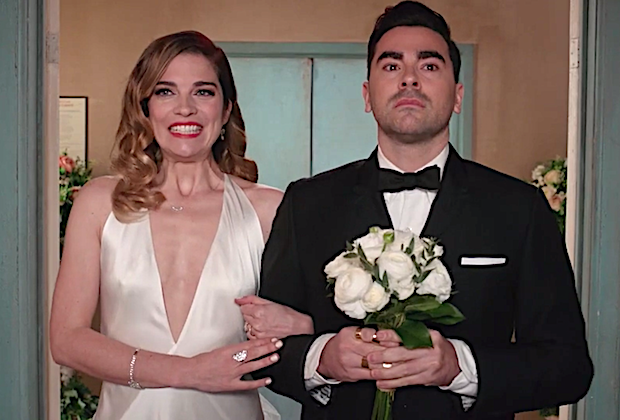 Rule number 5: Invest in good suppliers
From the masseuse who gave David a happy ending for no good reason, to the embarrassment of the local photographer who was also hired to be videographer….who awkwardly stood in the aisle with a camera and camcorder round his neck. I wanted to throw up a little bit in my mouth. For the love of cuss: hire professionals. This is your big day. At that point in time, it's the biggest day of life. Please do not try and save some dollars and hire amateur suppliers. If the cake is important, put all your money into the best bloody cake anyone's ever tasted. If you know photos are important to you, hire a professional wedding photographer. Do not get Uncle bob who once bought a camera in 2002 to photograph your wedding. 9 times out of 10 it ends with tears. (So book me!)
Rule number 6: Get a wicked celebrant
Moira was roped in last minute to deliver the service, and boy she delivered. Serving strong Pope vibes and looking like she had just been to the Met Gala in 2018, she delivered a beautiful ceremony all the while choking back the tears. I cannot recommend a personalised ceremony more. From writing your own vowels to having shots, pouring glitter. You name it, I've seen it during a celebrant led wedding. Check out the celebrants over on Wedding Breakfast Club to shake up a few aged traditions!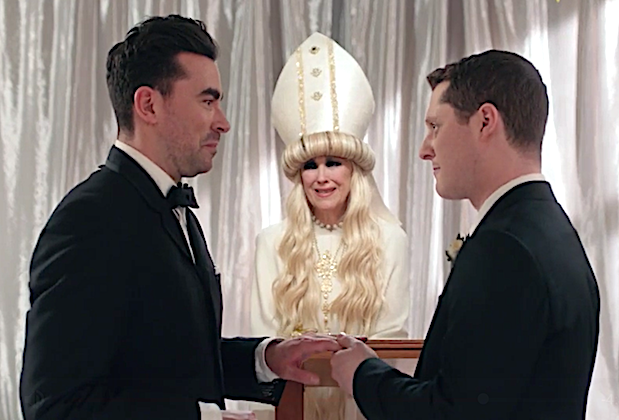 Rule number 7: Don't sing your vows
For the love of Christ, I love Schitt's Creek but when Patrick sang his vows to David I tried not to throw up down myself. It is cringe. And no matter how lovely you find it as a couple…I'll definitely be in the audience pulling this face
Hire a professional vow writer, or speechwriter and nail that shit in spoken word! Check out Lizzie over at In Your Own Words
Lastly, rule number 8: marry the love of your life and nothing else will matter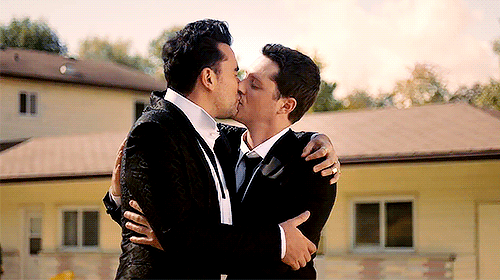 We first met Patrick in season 3 and we knew quickly he was going to be the one to soften the stone-faced David. He puts up with David's outbursts, his irrational fits of annoyance and even his night-time whoopsie-daisies. Patrick is the ultimate crush for David. In a way, I think the reason David remained calm and stressfree on his wedding day is that ultimately: as long as he married his love, everything else was just a luxury. The Schitt's Creek wedding was genuinely moving and the perfect way to end the show.