A Rock and Roll Elmore Court  Winter wedding
Last Winter, despite the snow just after Christmas, I had the absolute pleasure of photographing Jo & Dan's awesome rock and roll Elmore Court winter wedding. With leather jackets, sequin maids and a Rock n Roll Rolling Stones piñata, it delivered on every sense of the rock and roll promise.
Set at the beautiful Elmore Court in Gloucestershire, the venue was the perfect setting to such a sunny but crisp Winter's morning. Despite the snow, Jo & Dan celebrated their wedding amongst friends and family in the main hall before moving into the Gillyflower for the evening. Elmore Court is the perfect wedding venue in Gloucestershire for both Summer & Winter weddings. Jo & Dan's December wedding is a perfect example of a great winter venue.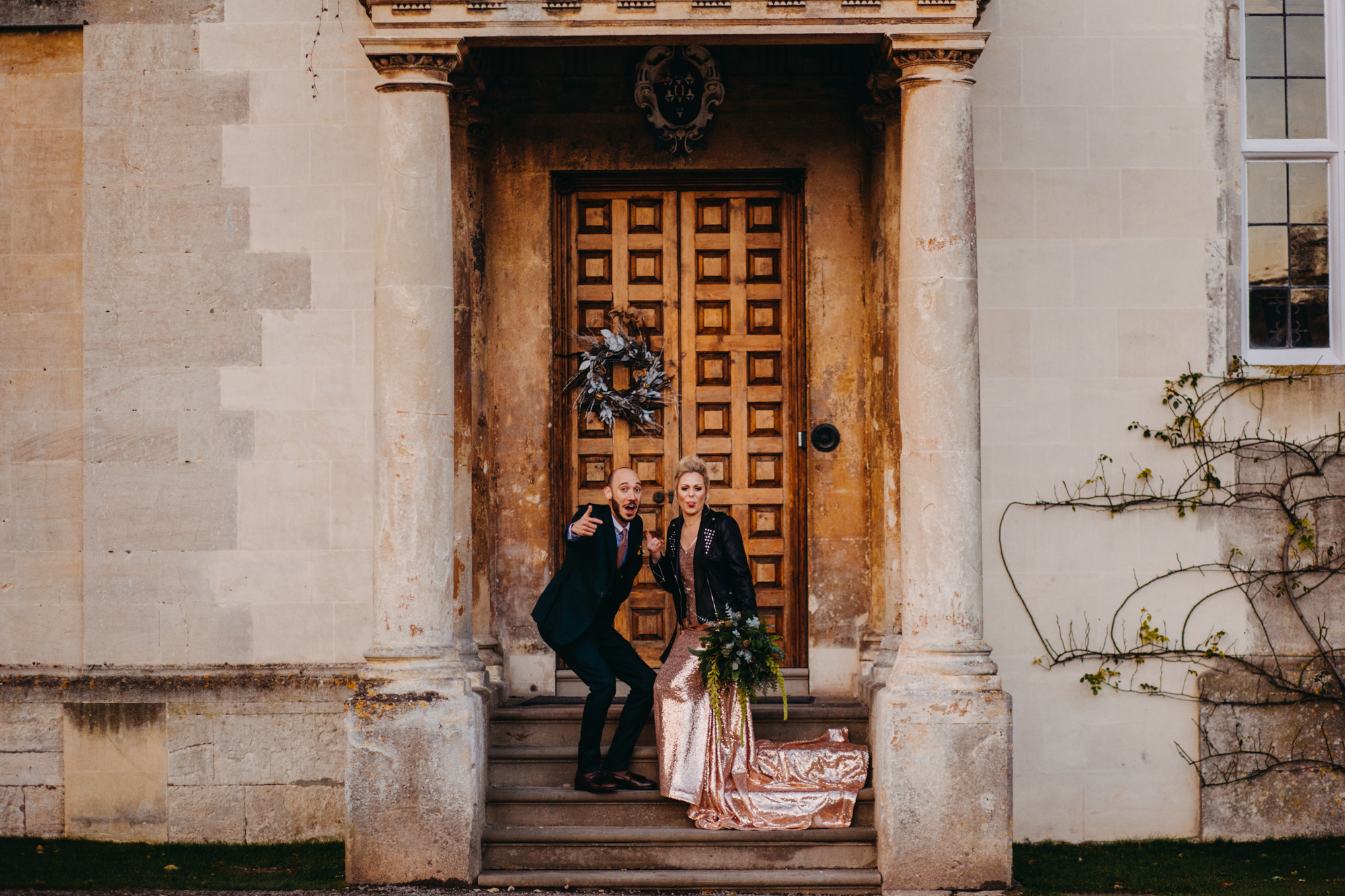 Jo wore a beautiful custom made sequin gown by  Margo Stankova
While Dan wore a custom suit by Suit Supply
Bridesmaids wore stunning matching sequin gowns from Jenny Packham 
With Bride Jo being a florist in her own right, it goes without question the flowers were OUT OF THIS WORLD! From the bouquets to the table decorations, Jo's own love of floristry showed  through the day and it made the Gillyflower reception area look and smell incredible. Not only that but Jo made their amazing rice crispy cake, rolling stone piñata as well as lots of other incredible touches throughout their day.
With endless confetti cannons and smoke bombs, the pair were up for all sorts when it came to their photography.  I love a couple who want originality in their group photos. From the gaggle of lads trying to work out how smoke bombs work, to popping a confetti cannon and finding out it was NOT bio-degradable (oops, sorry Elmore Court!) With the last of the snow on the ground, we snuck off for 10 minutes before the sunset for some of my favourite couples portraits of the year. Combined with their unique smoke bomb portrait that not only burnt a hole in Jo's custom made rose gold sequin dress but also broke my car's engine, Jo & Dan's couples' portraits were a blast.
Check out Jo & Dan's wedding below!