Looking for elopement photography in London?
Then you've come to the right place!
Lex Fleming Photo |Elopement Photography London
Whether your wedding plans have been screwed or you're just saying "f*ck it, let's get married" then I'm hear to help.
Pre-covid, I was a busy alternative wedding photographer in London. With almost 30 London weddings a year, I know the best (and worst) town halls and venues in the Capital. As the pandemic has hit, I quickly managed to establish myself as a busy elopement photographer in London & Essex. Whether it's just ceremony coverage or youre making the most of the day with micro wedding plans, you can have your elopement photography epic and stylish and just for a few hours.
How to organise your London Elopement
Step one. Book your date and pick a ceremony type
The biggest mistake folks make when booking their london elopement is assuming it can only be done at the town hall. Whilst yes..the town hall makes it legally binding, the rumbling of celebrants are descending on the industry here in the England and we are seriously excited. Soon, humanist weddings will be legally binding. So don't rule out the possibility of a wonderful celebrant leading your ceremony on your favourite bridge, or at a special place in London. 
If you do decide to go the town hall route…let's talk 'giving notice'. 
Whilst the US allow as short of notice of 24 hours, here in the UK you need to book your ceremony at least 28 days before your chosen ceremony date. For some international residents, this could be upto 71 days. So be prepared and book ahead. 
Here's some of my favourite town halls in London for your london elopement plans
Hackney Town Hall is located in the heart of Hackney and with grand, beautiful steps outfront, expect to be wowed by the north & south atria rooms, the committee room and the council chamber. Hackney are currently allowing 8 people in total (you, 2 witnesses, 3 guests and your photographer) but definitely call or check out the other town halls and venues that Hackney council can use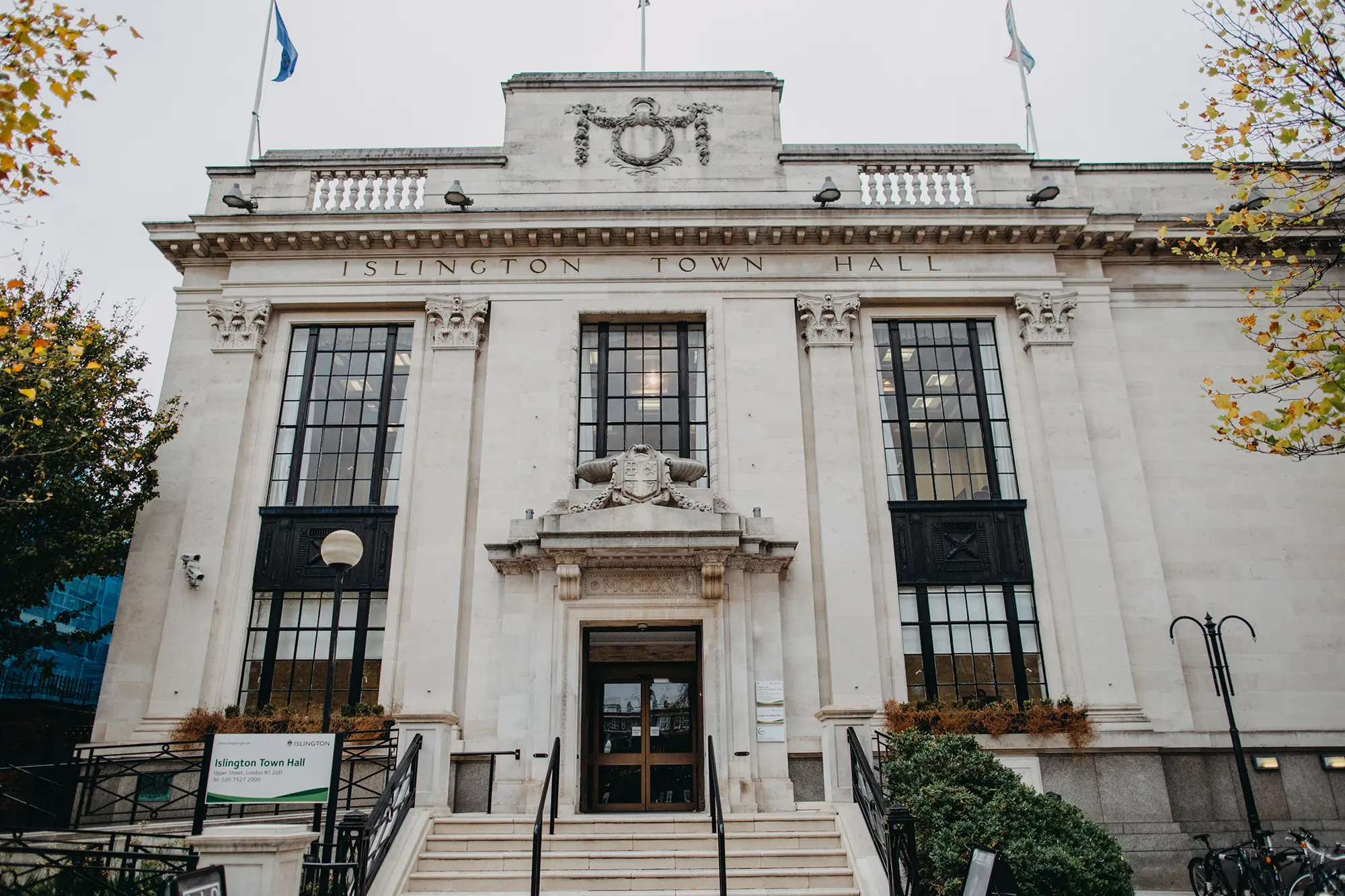 Normally my home from home during a normal year, Islington Town Hall is by far one of the most popular town halls for a London wedding.  There's a great pub across the road for covid-friendly pre or post drinks, and lots of locations near by for couple portraits! Islington is now taking new ceremony bookings for the council chamber and room 99 for 13 guests. You can book in here and check availability.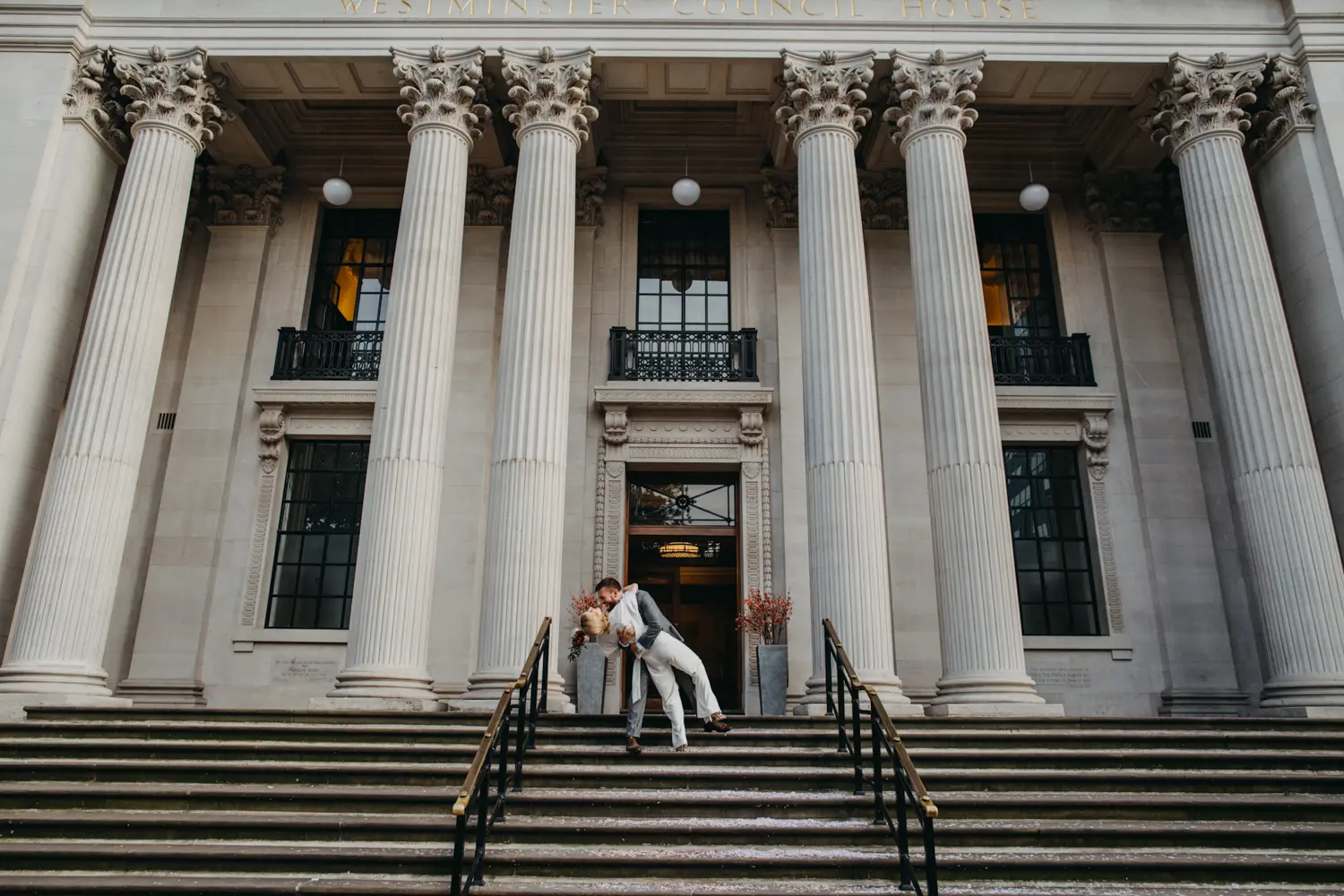 By far the busiest town hall in London for covid ceremonies, not only is the building and steps beautiful, but the staff go above and beyond for their couples right now. Taking bookings currently, I thoroughly recommend the Westminster room that currently allowed 13 guests, but you both, your photographer and your registars. Check out all the rooms with current covid allowances!
Last but not least is Old Chelsea Town Hall! Whilst they have the main hall, they also have another big hall, ironically called the Small Hall . It'ss the perfect spot for a safe and socially distanced wedding ceremony. In a gorgeous spot in Chelsea, this town Hall feels ritzy. It's best to give them a quick call to find out the best date available and their process. 
Other town halls in and around London to enquire with
How to plan a London elopement
So you've picked your town hall, what's next? 
Well, sadly…the next bit of planning a London elopement is the guest list. This bit isnt easy when you're inviting 100 people, let alone 10 people! My couples this year have chosen anything from them, myself and 2 witnesses (check out Megan & Dave's wedding where I doubled as photography AND witness!) all the way to their closest friends, parents or siblings.
Nearly all my London elopements so far this year has involved a laptop, an ipad or a phone with facetime or zoom playing. This means people can tune into your ceremony from not only London but all round the World. It's been really incredible to watch mums in Australia and sisters in Cina clapping along with the rest of us at the end of the ceremony!
So whoever decides to come, let them know to arrive 30 minutes before your ceremony time and to definitely bring a mask! 
And believe it or not…it's really that simple! Get your ceremony booked in, give notice, send the invites to the small group of folks who are coming along to witness and get something fab to wear Like Millie did! (And arrive in style like she did too!)
BOOK YOUR ELOPEMENT SESSION WITH ME TODAY