AYE, CORONA!
In the same tune as My Sharona
(ok ok, less joking and let's get down to why you're really here)
If you're anything like me, you'll have been watching recent events with shock and worry. Floating between 'it's all a dream' to 'fuck fuck fuck'. I felt it time you heard from me and what action you can take to still get married in 2020 without wearing hazmat suits. (though is it wrong I want to photograph this…?)
Here you'll read a few different scenarios to help put your mind at ease regarding your wedding this year.
Firstly, I cannot stress enough: I intend to be at every wedding I have booked in the diary. I'm taking all appropriate measures to avoid getting sick including avoiding crowded places and unnecessary outings. I myself have been in self-isolation since Wednesday with only the company of my dog. I'm following advice about face touching, hand washing, licking handrails and coughing on people. During your wedding we'll aim for air high-fives all round. 
If I become symptomatic (as outlined by the Government this is currently a new cough or a fever) I promise to not to turn up to your wedding ready to infect you and your guests. I'm almost certain you won't want this either. As a community, my fellow wedding photographers are beginning to prepare for a very unusual wedding season. From emergency cover groups in our areas along with preparing the Wedding Breakfast Club community for coverage. We are all in the same boat and none of us wants to let any of our couples down. I am part of a community full of people I trust to photograph your day with epic results. If I do need to find cover, I will give you as much notice as I can without causing you to worry. It's important we just keep calm and communicate. If this happens, I will still oversea your pre-wedding information, suitably prep my cover and still mange everything that happens after your wedding. 
I also think its important to say: it's ok if you don't know what you want to do. I'm right here to help, chat, cry and generally curse the coronavirus. My service hasn't changed: I'm still on the other end of the phone if you need advice or help. 
Here are some options to make sure you still get hitched this year
1. Don't panic
Easier said than done, right? Unfortunately, this is the best advice to give you. Whilst the Government decide how on earth to deal with this, NO ONE is an expert. Not even our insurers, sadly. This is such unknown territory that no decision is right or wrong. You need to keep an open mind and hope that you and your loved ones stay safe. Wash your hands, cough into your elbow and then wash and seriously. The truth is, more of us will catch it than not and we're only being told the worst cases (aka death). This doesn't mean its not serious, especially for our loved ones with compromised health already. But it's important to not make any rash decisions.
2. Downsize
One scenario is the Government decides to put a ban on social gatherings. There's every chance if this ban takes place it could be for events over 500. I don't know about you, but I barely know 50 people to invite to a wedding, let alone 500. However, if you are Prince Harry & Megan and have a guestlist bigger than my secondary school student body it may be time to cut down on numbers.
At the moment the government are not recommending limiting social gatherings – yay!  They may well never recommend this! But just in case they do follow other leads and ask us not to gather in groups, in the extreme scenario it'll be for events over 100 attendees.
If your wedding is under 100 people, yay, no drama. But if it's 100+ then you may want to consider having a shuffle of your guestlist. Use streaming services so they can all still watch you put a ring on it.
3. Health 
If you have guests that cannot attend either due to isolation or illness, think about using a video streaming site like Facebook live, Zoom or Google Hangout so your closest crew can still watch you get married. Combined with my 24 hour preview of a handful of professional images, hopefully members unable to attend can still celebrate with you. I know this isn't ideal but I wanted to tell you this option is available to you.
If you're worried, self isolate. This is the perfect time to get that DIY done, binge watch Netflix and use all those Lush bath bombs you've been stock piling. If you're self employed like me, I know this isn't ideal but worth doing to protect yourself and your loved ones.
4. Venue change
The closest thing I can see happening is your venue having a previous guest with a symptom and needs to postpone your event. If this is the case, consider moving your wedding day to a loved ones house. I'm not going to say much more because again…unless you're Harry & Megan and your nan is the Queen of f*cking England, this may not be possible. However, if you know a guest with a big ass house, don't be afraid to drop the Marriage guanlet and ask if they can host. Guests will not care if everyone's sat on the floor eating hot dogs and drink capri suns. Remember, these are all stories for when you're 70!
5. Postponement
I feel like theres alot of bad advice circling out there and a couple big blogs are telling you to go straight to postponement. I however feel like this needs to be a last resort for you. I know how hard my couples work in planning and preparing their wedding days. You need to consider lots of things, one of which is 'can we afford to move our wedding date?' Given a lot of us suppliers don't have a virus/zombie clause in our contracts, this is something to discuss with your wedding suppliers along with your wedding insurance provider.  I am willing to move your wedding date to any of my available dates later in 2020 or into 2021 and can transfer your booking fee to this new date.
6. Support each other
Whilst it's easy to panic, please consider all the different avenues when it comes to your health and happiness. Even though you're overwhelmed, try to resist the urge to outright cancel with your suppliers. Your suppliers really care about you, and are also worried about their business. Work with them to create a plan that works for both sides. And while it's your wedding, just keep in mind the impact that this can have on your suppliers businesses too. Take advice from your insurers, and speak to loved ones for what they suggest you do. I've already seen some wonderful commenters from mums of couples saying 'fuck it, we'll put a tent up in the garden if we have to'. I LOVE that attitude. I think cancelling your big day should be the last option to you.
In 2015 I photographed a destination wedding where, the week of the wedding, there was a freak heat wave. I'm talking 45 degrees and up. The original venue had no air conditioning and threatened to cancel the wedding due to insurance. So you know what happened? Guests clubbed together, brought chairs and picnics and set up the wedding in the brides' parents back garden. Guests took turns circulating through the air-con filled house and got stuck in with suppliers all bundling into the garden.
It was by far my favourite wedding to photograph for the absolute community spirit of the day. And you know what? The couple still got married!
7. Wash your hands
Juuuuuuuustttt incase you have forgotten….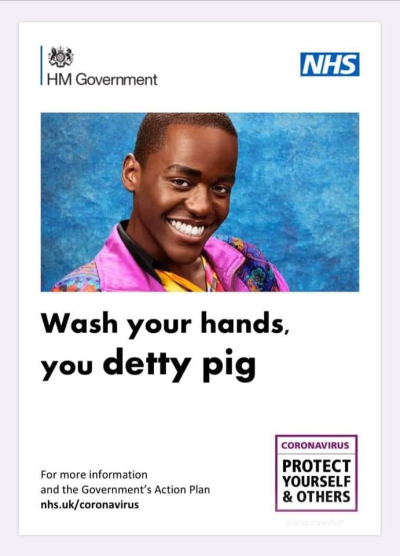 Lastly, if this whole Corona-virus is really bumming you out, maybe this will cheer you up…
(NSFW)