You may remember my break down of those wedding traditions and where on earth they come from. Some of them are practically archaic. So if you're not down for medieval traditions, I thought I'd share with you 5 possible alternative wedding traditions that you could quite easily build into your untraditional wedding plans. Let's get started…
5 alternative wedding traditions
First up: First look photographs
There is the wedding tradition that states it is bad luck for the groom to see his bride before the moment she walks down the aisle.  However, move over silly tradition….we're starting to adopt the American tradition of a 'First Look'.  This is a wholesome and somewhat practical idea that sees the couple reveal their outfits to each other before the ceremony, often having a private moment (captured from a safe distance by their photographer).  It allows the couple to have some time together before the rest of the day unfolds around them. Equally, why your hair is still perfectly coifed, you can get your couple portraits out of the way before the day kicks off..allowing more drinking time. I'm biased but I'm yet to see an issue with this one…
2. Giving yourself away at your own wedding
We looked last time at how brides are no longer considered the property of their parents and the tradition of the bride being given away by her father is another one which could be given an alternative twist.  Sometimes there are reasons why the bride may be given away by another member of her family, but how about walking down the aisle by yourself to truly symbolise your independence.  It may also be more important for a valued friend or another family member to give you away or for the truly alternative amongst you, why not walk down the aisle with your future spouse! 
Hire a celebrant, not a church!
Possibly my favourite of all alternative wedding traditions and one I hope in the near future become more normal: the celebrant! Celebrants are incredible creatures who can oversee a non-traditional and non-religious humanist ceremony. What's more, these ceremonies can happen ANYWHERE. Like..literally on Tower Bridge to the bottom of the cow's field at home. They are fun, incredibly personal and have far more meaning than any registrar
Also, I'm writing this these are strong rumours suggesting that the Government will also legalise humanist ceremonies and will expand wedding licenses to outside, something we've been waiting for for years. So more outdoor weddings, weddings in the woods and elopements in random places!
Female speeches
Anyone noticed that all the speeches are traditionally by the men?  How about shaking up the speeches with letting a few of the ladies be heard!  The mother of the bride, maid of honour or even…..shock horror….the Bride herself! Lucy did a rap during hers! I know a few brides who have given speeches at their weddings and enjoyed every minute of it.  The bride may have just as many embarrassing skeletons in her closet which I'm sure the maid of honour or bridesmaids can regale us with, and I know of a few occasions where parents of the bride or groom did a double act speech! Let's hear it for the ladies!
Lastly…a modern take on cutting the cake
So, the tradition of cutting the cake is my most favourite to tell and my most hated tradition in itself! Now, you may be thinking, 'but couples already cut the cake together?'  A-ha, but they sort of don't.  Traditionally they hold one knife together and make a single slice.  A nice alternative to this, and which symbolises their equal role in the marriage, is for both partners to hold a knife each to form both sides of a single slice of cake.  Or you could go really alternative and ditch the cake altogether – croquembouche cut with an axe anyone?!
See…that was fairly easy, right? 5 wonderful alternative traditions that you can easily implement in your wedding and make your wedding day truly unique. Other suggestions include: sack off the first dance for a dance-off, open mic speeches during your drink reception, wedding tattoos not rings or a 'first pinata' before dessert!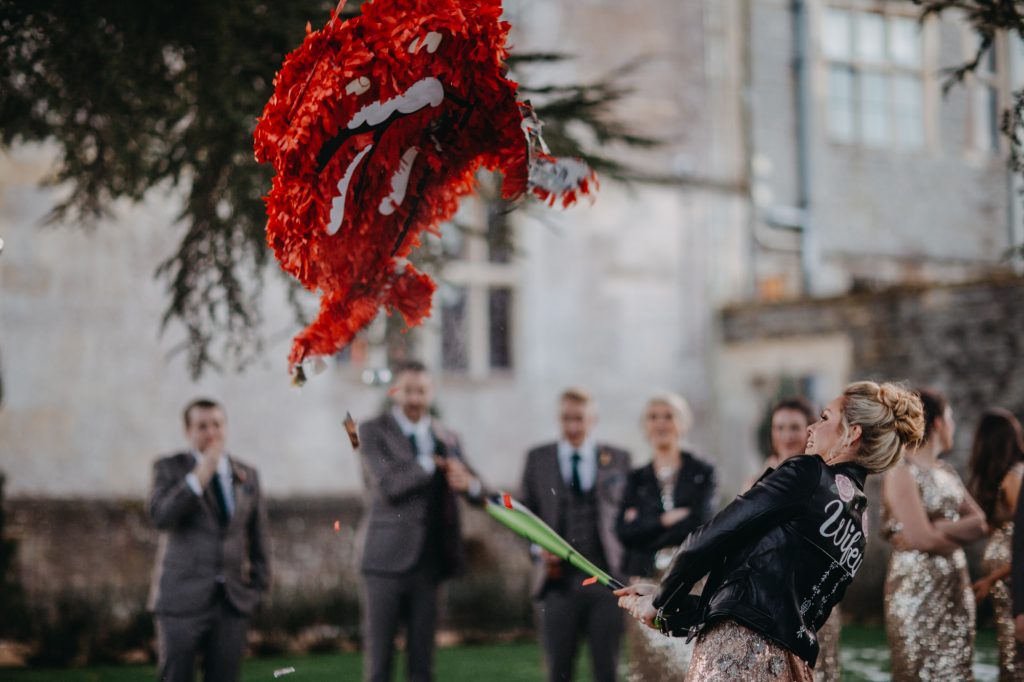 Other posts to read